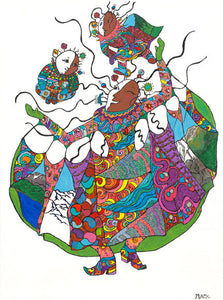 MACK ART
Having a Ball-Balance - Framed and Unframed Giclée Prints
Regular price
$80.00
$0.00
Unit price
per
Tax included.
Text on back of card:
Having a Ball...Balance
Motherhood vs. The Mother's talents and job. This mother is throwing her beautiful children in the air, having a Ball.  She is enjoying them whole heartedly.  However, her dress is very heavy with the burdens (and joys) of the rest of her life.  The dress is trying hard to pull her away from her children, and yet it is such an important part of her make-up.   She is multi-ethnic....like all my other ladies. Read more about Having a Ball-Balance.
The Woman's Life Dance Series is a celebration of women. They are multi-ethnic and athletic instead of sensual in their physique (to avoid judgement based on body type). They wear crowns of their greatest joys and influences in their lives (i.e. children, mates, passions) and are loosely based on Yupik masks. Their dresses tell their life story and the cowboy boots are joyful, to give a bounce in their step as they travel through life.  They all wear mittens, because the artist is proudly Alaskan!

Available Products Below:
$200 - 18.5x23 Paper Giclée
Framing/Matting (print 12x16)
$200 -16x20 Canvas Giclée
Framing (print 12x16)
$80 - Unframed Giclée Print (12x16)
---