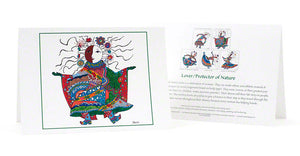 MACK ART
Lover/Protector of Nature Card
Regular price
$4.00
$0.00
Unit price
per
Tax included.
Lover & Protector of Nature
Greeting Card 5" x 7" with envelope
Back of card text:
She is a passionate and unwavering voice for the silent.
The Woman's Life Dance Series is a celebration of women. They are multi-ethnic and athletic instead of sensual in their physique (to avoid judgement based on body type). They wear crowns of their greatest joys and influences in their lives (i.e. children, mates, passions) and are loosely based on Yupik masks. Their dresses tell their life story and the cowboy boots are joyful, to give a bounce in their step as they travel through life.  They all wear mittens, because the artist is proudly Alaskan!
---